Home Grown for Quality
We grow a lot of our own nursery stock in order to provide unique varieties with outstanding qualities.  Grown in beautiful, balanced soil mix means strong healthy roots that will thrive when planted.
Trees
Trees are the bones of a yard. They can screen unwanted views. They are air conditioners, reducing heat in the summer by as much as 20 degrees. Select your own shade or flowering tree from our many  varieties.
Shrubs
Adding dimension and low maintenance to your yard is easy with shrubs. Our collection of tried and true varieties and Proven Winners will make your yard shine. Hide your messy neighbors, enclose your hot tub, enhance your patio.
Hostas
Favorites for everyone who has shade! Hostas are undemanding and easy to grow. Our selection is extensive and ever-changing. Find the right size, shape, and color with our help. 105 varieties!
PERENNIALS
Plant perennials in your garden to provide ever changing color and texture. Attract birds and bees, too! We have a great selection all season along.
DAYLILIES
Come select from our sturdy, healthy plants. We have over 60 varieties, including rebloomers, fragrant, huge blossoms, ruffled, double, sparkled, all colors!
GRASSES
Texture and movement add a different dimension to the garden. Most like sun but there are even grasses for the shade. Over 35 varieties!
Products in Our Nursery
We're more than a plant and tree nursery in Fennville, MI. Huntree Nursery has everything you need for your lawn, garden, patio and more. Stop in to check out our extensive inventory of plants and accessories. From flowers to fungicides, we carry it all. Our products include:
Annuals
Bark
Bird baths
Fertilizers
Flagstone
Flowering trees
Fungicides
Garden accessories
Garden décor
Garden supplies
Gifts
Grasses
Ground cover
Insecticides
Landscaping materials
Mulch
Native Plants
Perennials
Plants
Shrubs
Statuary
Stone
Trees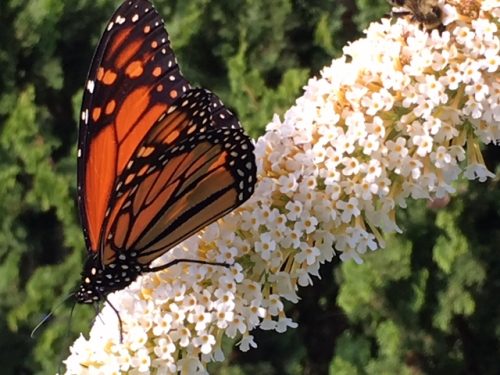 Go Green
Enjoy lush surroundings with top-quality plants and products from Huntree Nursery. Contact our experts at 269-543-3761 today for the best in selection and service.